Today, after the rains of the past two weeks–and then a hot sunny midday–we had more species of odonates at the lily pond than I've seen yet this year.   And the males all wanted a landing site on this stick: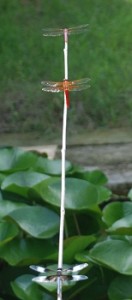 At the top (for the moment) is a Roseate Skimmer, Orthemis ferruginea, and below it a Neon Skimmer, Libellula croceipennis.   Lowest is a Widow Skimmer, Libellula luctuosa.   Smaller dragonflies buzzed the stick and sometimes drove off the larger ones–the Blue Dasher, Pachydiplax longipennis,  seemed to be celebrating having the top spot: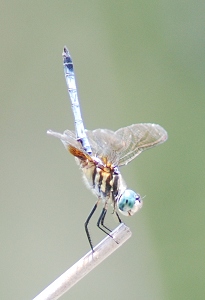 At least four male Blue Dashers were zipping around the pond.   A lone Eastern Pondhawk male, Erythemis simplicicollis,  chose to perch lower down on this stick.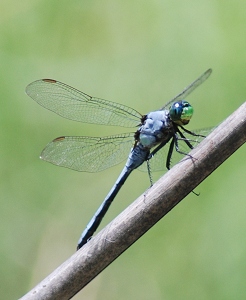 When a female Eastern Pondhawk came to oviposit in the pond, this male and several Blue Dashers skirmished overhead.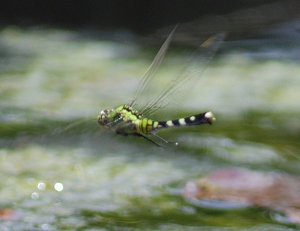 The female stayed low to the water, dipping and scooping just like the Neon Skimmer female in a previous post.  The female has the same green face as the male.  This is the first time I've documented this species ovipositing in the water garden, though it shows up almost every year.
Ignoring all the excitement overhead,  Desert Firetail damselflies, Telebasis salva, oviposited around the margin of a lily pad: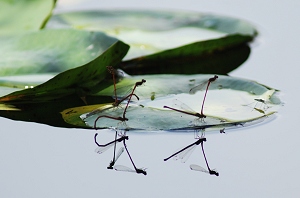 The males grip the females by the head; the females curl their abdomens under to lay eggs along the edge of the leaf, in the water.   Sometimes in summer a lily pad will have a "fringe" of Firetails around it,  the pairs all mating and then ovipositing.
I put up a second perching stick, and that gave more dragonflies a chance to land, but there were still more dragonflies than perching room.    However, I got some solo portraits:
Widow Skimmer: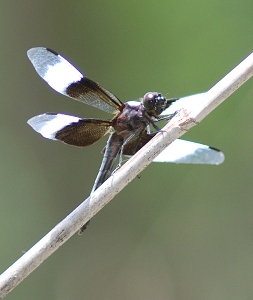 Neon Skimmer:
Roseate Skimmer: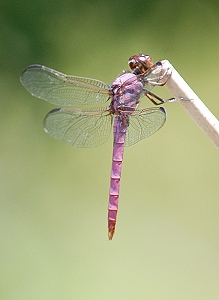 Finally, another view of Dragonflies On a Stick: