When I went out yesterday about noon, I found four of these lovely pink waterlily flowers open:
The year we built the lily pond, we put in three waterlilies: a pink, a white, and a yellow.   Last year, when we cleaned out the overgrowth (of iris and lilies both) they weren't in bloom, and I was afraid we might have discarded the pinks…but here they are.  We also have some yellows, but the whites are gone.    We still have too many lilies (too much mass of lilies, so they can't spread their pads on the water) but no time this summer to get into the pond and separate and replant.
Yesterday's finds included an ovipositing Widow Skimmer, Libellula luctuosa–the first time I've observed this species ovipositing.   The female Widow Skimmers are handsome–black and gold–but I was unable to get a good picture.   This dragonfly  had a very different style than the Neon Skimmer.   She hovered higher off the water, went in fast and dip-splashed only once before immediately rising to her hover/search altitude (about a foot).   Then typically moved at least a foot away to drop for another dip-splash…and formed no pattern I could discern as she worked the west end of the lily pond and some overflow (from the recent rains) shallow puddles beyond it.
Two male Widow Skimmers were around the pond, though, and I did get pictures of them: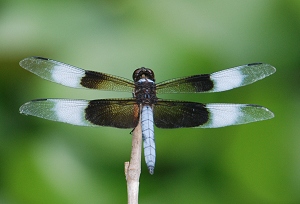 The dark and white wings are especially beautiful as they seem to "flicker" over the water.   This one was patrolling the lily pond, and successfully defended the perching stick against a Neon Skimmer male–unusual, as I've seen in other years that the Neon Skimmer usually gets the high spot on the stick and the Widow Skimmer is lower.   There was a tiny Blue Dasher perched below the Widow Skimmer.
The other male Widow Skimmer patrolled upstream of the lily pond and had a favorite perch much lower than this, near Round Pool: 
Perching right on Round Pool, on emergent vegetation, was a male Blue Dasher:
Round Pool itself had become totally choked with irises, so last year we cleaned it out completely, replanting only a few clumps around the edges, a few other plants as well, and leaving most of the surface open.   It wasn't open for long, as water striders  are all over it:
Upstream of Round Pool, the stream section is at least partly shady.   Neon Skimmers and Blue Dashers are the dominant dragonflies here, but we also see damselflies perching on the ground or on rocks, like this Kiowa Dancer, Argia immunda:
Odonates are predators in both their immature and mature forms, but they're also prey for other predators.    Besides the fishing spiders, other spiders may attack them, including the big orbweaver Argiope aurantia.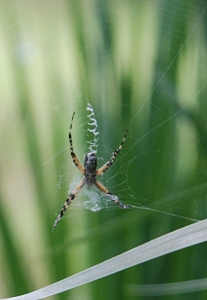 This spider spins large, beautifully constructed webs in the water iris when it's tall enough (it also spans openings between bushes out on the land, where I've witnessed it capturing and killing a Common Green Darner, quite a large dragonfly.)    With so many insects–not just odonates–in and around water, this is a good spot for a spider to try for dinner.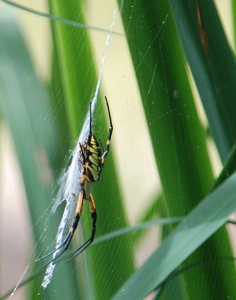 Both these spiders had spun webs in the water  irises of Round Pool; I'm sure there are more in the larger iris bed in the lily pond.
As the day wanes,  waterlily flowers begin to close up for the night: