It's not fully open yet, but we count "first bluebonnet" from the first "bonnets" being open, so this counts.  You can see one not as far along in the background.
In another shot, you can see that it's already the target for hungry insects.  Here there's one tiny  fly nose-down in a flower (seen from above) and one on the left zooming in.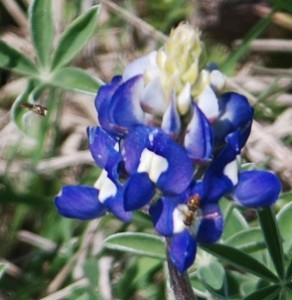 For some reason, the first yellow evening primroses stayed open today in brilliant sun–it was about 1:30 this afternoon that I photographed them:
Many of the flowers, including the bluebonnets, aren't fully open yet.   This Drummond wild onion still has slightly folded petals:
The verbena's also just starting to open its flowers…soon this will be a ball of pinkish purple:
But the delicate little white mustard-family flower–I think this is Capsella bursa-pastoris–is already dropping some flowers to set seed.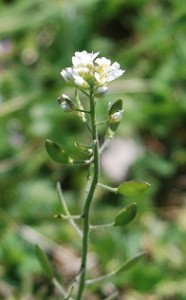 Finally, on the north fenceline, the clump of Mexican plums is in full bloom and you can hear the bees in it from yards and yards away: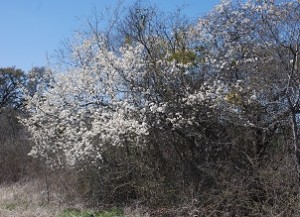 (And I haven't forgotten the insect lovers:  Here's the first green lacewing of the year, hiding out between tiny leaves just bursting from a cedar elm bud.)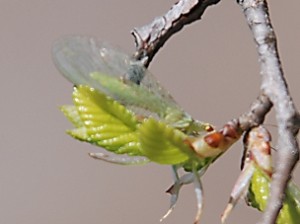 Notice that the bronzy-red eyes of the lacewing almost match the bronzy-red of the bud casing the leaves came from.