The thicketing plums in full bloom–this thicket began with a few stems of plum stuck in the ground.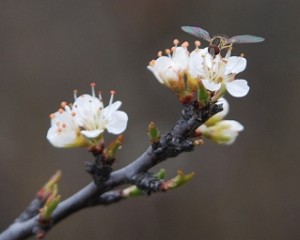 This tiny fly is one of many flies and bees working on the plum flowers today.
Scarlet Buckeye flower bud showing between the barely-opening leaves.    We have both the Scarlet (which is actually a deep dusty red-rose) and a pink-flowering one, both native to Central Texas.   They're sun-sensitive and the leaves  "burn" and fall off by early summer.
The Scarlet Buckeye leaves are elegantly pleated when they first open.
Although these flowers are tiny, their clean white  shows up well against the dark green leaves.
Just as tiny are these little blue flowers that appear singly and scattered over the low-growing plants–one of the speedwells.
Out in the east grass, we flushed a lot of sparrows from the grass, but most were too fast and made it to good cover before we could photograph them.   This one, however, perched up in an osage orange tree and let me get close enough.   It was hard to see against the gray-white sky (even with binoculars, I could see only that it had a streaked breast–the rest was silhouette.)   The camera, however, performed well…it's a Savannah Sparrow.
Back in the yard, we sat outside and watched birds at the feeder and the artificial stream.    This male House Finch was a slightly different shade of red from the first to appear; we've had three pairs around for over a month, all redder than our usual ones.
Finally–the most vividly colored of our anemones (and quite rare) is the deep purple one.   White is the commonest, pale pink or shades of pale blue come next–but this one,  I wish I had an acre of.