Instead of raining yesterday as the front came through, the sky slowly cleared from the west,  and today dawned chilly and clear.  While Richard worked on fence, I put on rubber boots and went out to see if anything's drying out yet.
Certainly not this part of it.  In fact, there's standing or flowing water over much of the 80 acres.    And no, it's not the same image as the one in the previous post–it's just as wet if not wetter.
There's also some gorgeous color: prairie flameleaf sumac at its peak.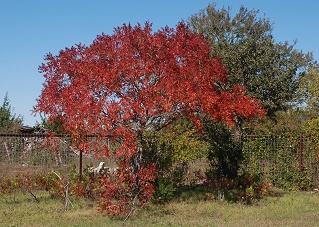 Notice the small ones near it…if we're lucky this thicket will fill the corner of the north horse lot.
We have an exuberant Cecile Brunner rose at the low end of the horse lot, too–planted to disguise an old brush/trash pile.  To keep the horses from getting into the pile, or it, we fenced around it with old gates and panels, and it's now filled the space.  After all the rain, it's covered with pale pink flowers.
Yes, that's the same sumac behind it.
Down in the creek woods, the main color was gold–the eastern persimmons have big butter-yellow leaves:
That's a corner of the "lower swamp overflow" on the left, reflecting a bit of blue sky.
One of my purposes in going out was documenting the effects of all this rain after drought–where there's been erosion, or soil deposition,  aquatic life-forms (if I can spot them) returning to the place, signs (tracks) of other wildlife, etc, etc.   I also did some trail maintenance with a hand pruner,  re-opening the trail west from Deer Ford, trimming a bit of the trail from the low end of the gully system to the cottonwood tree (not possible to go farther due to high water),  checking the rock crossing of Westbrook (need to add more rocks!) , and trimming around Owl Pavilion's deck.   Lots of tracks, heard lots of winter birds that have moved into the SW meadow cover.  Westbrook jumped its banks near the old cottonwood and formed a new channel still draining briskly, parallel (roughly) and west of the former one.
But for the moment, here's another beauty: partridge pea in bloom (very valuable native forb!)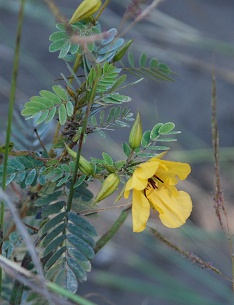 We have only a small population of patridge pea, near the foot of the gully system,  so I was very glad indeed to see that several plants were doing well and blooming.
Lots of odes were mating and ovipositing, though mostly three species: Common Bluets,  Variegated Meadowhawks, and Common Green Darners.

Here's a pair of Darners ovipositing  in one of the pools in the west gully system.