Last night we got another three inches of rain.
This morning the septic tank had filled up.   Flushing the toilets is out of the question.  So is dishwashing.   So we're snacking.   Lightly.    We do have access to a house that's on the city sewer system, but…I'd rather have a working toilet inside the house, modern wimp that I am.
My measure for "enough rain for now" has been reached.  There's running water in the front yard, back yard, horse lots–the French drains Richard put in have kept the barn interior dry, but everything else is glittering in the afternoon sun with running water.    The old well down the horse lot has three inches of "head" inside its casing and is leaking water freely around it.   The hand-dug well near the barn (only about 8 feet deep) is full, and this morning was overflowing.  So the ground water is down maybe an inch.   We need it down a foot.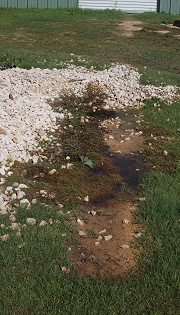 The horses are Not Thrilled to be locked into the barn and little barn lot (the little barn lot on the south side is puddly…but the south horse lot is SO green!
Mac and Illusion try to stay on the dry ground and demand more food.
They think Richard's headed for the feed room…