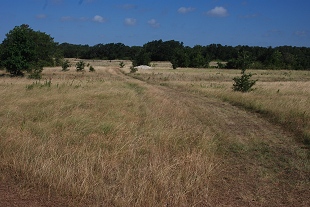 The near meadow, July 4th…another day of record high temperatures and clear skies with a good strong SW wind.
With the exception of trees, the green things sticking up knee high are all ironweed, already in bloom, and about half the height they would be with normal rainfall.
Here the lower green is broomweed and a little ragweed.    It doesn't show from this distance, but both the dry woods (nearby) and the creek woods (in the distance) are losing leaves and in some cases limbs to the drought.
Grasshoppers still abound where the grass has any green at all, and this one was so well camouflaged that if I hadn't watched it fly, and land, I'd not have been able to see it–in fact, I couldn't see it through the lens; I just took a picture of where I new it had landed:
Another survivor is our mystery milkweed from last August, the one the botanist from the Lady Bird Johnson Wildlife Research Center couldn't ID for sure because it was at the end of its flowering.  We have two tiny populations of this native, which reappeared since we bought the place.
It puts up a tall, skinny, single stalk with sparse linear leaves, and flower heads the size of golf-to-tennis balls, each a cluster of tiny flowers.  I hope we can get a firm ID this year.   This is the most forward of the stalks–and it was leaning on the marker stake so I was able to get a photo despite the wind blowing other things around.
Back at the lily pond, the male Neon Skimmer continues to dominate the other odes, taking the high position on the perch-sticks or iris leaves and buzzing others who come too close.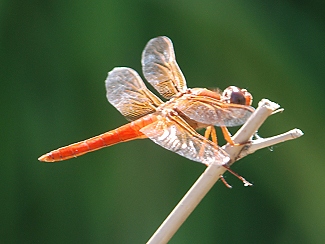 On the evening of July 5, we did get a little rain–four tenths of an inch–but it would take two inches to be a rescue rain.   Still, we're grateful for every drop (and for cloud cover to lower the temperature enough that those drops can soak in for plants to use.
[later]  I found four different plants in flower in the garden (all get more water than just rain) and was able to make a table bouquet.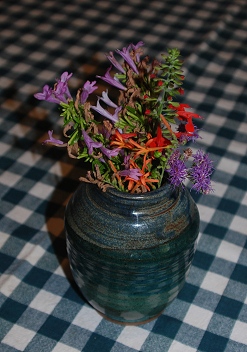 On the left, the lavender tubular flowers are Mexican oregano; last week it was a mass of purple/lavender-and-white flowers, but the heat took most of the flowers.   The orange are firecracker bush (you can see why!) and the brilliant red is a scarlet sage.  The only other flower we have that's as brilliant a red is Turk's cap, and it's not flowering now.  The purple flowers on the right are ironweed, a tall, tough summer bloomer that butterflies like.  Those in the garden are chest-high on me; the ones out on the land–no extra water–are knee high or below.  But it's a native, and should survive.