When talking about a new species, I need to make clear that it can have different meanings here:  1) a species we have not previously identified on the 80 acres (could be IDed or not, photographed or not…just something new seen), 2) a species not previously identified here which is documented, IDed, and added to the list, 3) a species none of the experts consulted can identify and consider a new (to science) species.
So what have we had this spring in any of the categories?   First, a planthopper that hasn't been IDed yet…it's been photographed, but not as well as I'd like.  It was on the kitchen windowscreen one late afternoon, and the next day (when the light might've been better) it wasn't.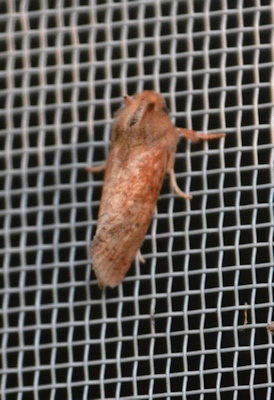 May 22, I had an hour outside after a stormy night and found two new-to-us species, both now IDed thanks to BugGuide.net.
Fly in genus Archytas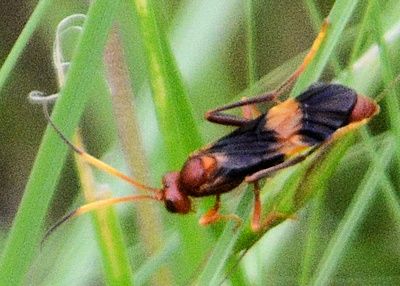 Ichneumon Wasp Trogomorpha arrogans
     New snake for the lily pond, though not for the place.
Likely either Natrix erythrogaster transversa or N. erythrogaster flavigaster, the Blotched Water Snake or the Yellow-Bellied Water Snake.  The snake didn't roll over to show me the critical underside.
This view clearly shows the faint transverse bands on most of its length.
We have a lot fewer frogs and tadpoles in the backyard water system than we used to, and I think this snake is responsible.  It's much bigger than the red-lined ribbon snake we've had most years, and since it can grow much larger than this, it's out of scale for the pond-and-stream.  Eventually it will have eaten everything it can find here and will go somewhere else to reach its full size.