Today when hanging up the wash, I spotted something small on the end of a clothespin that was hanging upside down from the line.   It was the same mottled dull gray-brown as the clothespin itself, and it was between the V of the angled ends.  I carefully removed the clothespin from the line and put it on the table, then went to get my camera.   After a fruitless search for the macro lens (I put it somewhere safe.  Very safe.   Too safe)  I had to use the zoom lens, which is a sort of zoom macro but won't focus closer than about 18 inches.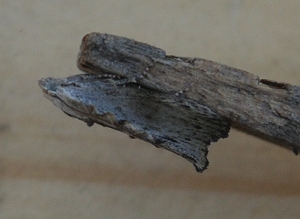 The insect is facing left, under the clothespin arm, clinging with its little striped legs to the clothespin.   It is perfectly camouflaged against the weathered, aged wood of the clothespin.  On rough bark, I would not have spotted it.   It stayed on the clothespin all day, resisting gentle attempts to get it to move to another surface where photography would be easier.  (Between the "arms" of a clothespin is not an easy place to shoot!)
Later, I was able to place it in the slanting light of afternoon sun and got a better picture of the dorsal surface: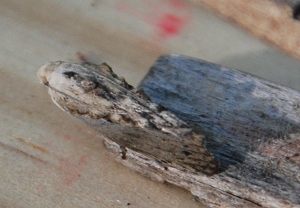 In this image you can easily see the pattern on the "back, and the little bumps–they also show in the insect's shadow, to the right.   I believe I can see antennae trailing back over the dorsum…and some moths have antennae like that, but they don't have legs like this (I don't think.)   On the other hand, leaf-hoppers usually have antenna angled forward (if those things on the back are antennae and not more camouflage.)
If this is a leafhopper (no, I haven't sent the photos to BugGuide yet…I'll be doing a more thorough hunt for the macro lens in hopes of finding it, and the insect, tomorrow) then it's a distant cousin to this much more familiar critter:
Tibicen superba on window screen
The cicadas are making the yard far less peaceful than it was a few weeks ago.  East and north of here, Mississippi kites harvest cicadas, but here we have to wait for the arrival of "Cicada Killer" wasps–big scary looking wasps that are large and strong enough to carry off a struggling cicada and stuff it in a burrow to feed their young.