We had thunder and rain this afternoon for several hours, but around six, sun broke through enough to illuminate the newly refilled lily pond.  I went out to see what was going on with pondlife.   Two male Neon Skimmers, Libellula croceipennis, were harrassing  the four or five male Blue Dashers, Pachydiplax longipennis, and also pestering the two female Neon Skimmers who were ovipositing in the pond.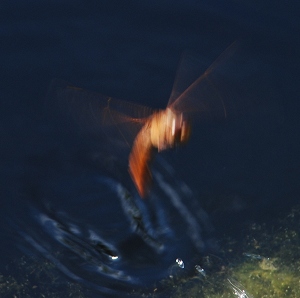 Neon Skimmer females "splash-deliver" their eggs onto mats of algae or waterside vegetation.    They hover over the water,  then dip down and use the tip of the abdomen as a sort of scoop to splash the water forward,  instantly rising again.   The droplets of water contain the eggs.   This female oviposited constantly over a several minute period, moving from one area of the pond to another.
But along with odonates, this pond contains a variety of pond life–water striders,  giant water bugs, tadpoles, frogs, and usually one of the small water snakes.    And fishing spiders, which in summer grow to be quite large.
Six-spotted Fishing Spider, Dolomedes triton
Fishing spiders spend much of their time in the water lilies, under the leaves that extend above the water.   This one, I noticed, was attracted by the water movement of the ovipositing female as she splash-deposited her eggs.
At this point, I thought "What if she gets too close–will the spider attack?"   The spider waited.
Then:
She came too close; the spider jumped (alas, no picture of that leap) and grabbed; its weight bore the dragonfly down and it quickly scrambled into position to bite.   The dragonfly fluttered strongly, trying to break free, but in addition to the bite the spider had legs on the dragonfly's wings.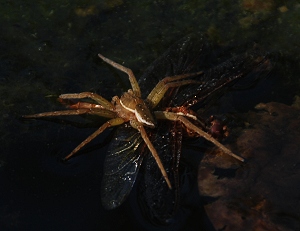 Gradually, the dragonfly's struggles ceased, the wing movements coming farther and farther apart.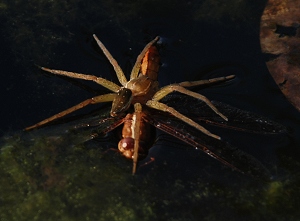 When I moved around the end of the pond to get a vertical view of what the spider was doing (besides killing a large dragonfly) the spider retreated to the cover of the lily pads, leaving the paralyzed dragonfly glowing in the slanting sun:
I'm sure the spider came back after I left.   Meanwhile the other creatures of the pond went on about their business.
One of the Blue Dasher males took a breather from harrassing other small dragonflies, and below, a Hackberry Emperor butterfly suns on a water iris leaf.
It's unusual that I get to witness predation on this scale–I really like Neon Skimmers and hoped this one wouldn't be caught–or would get away–but if it had to be, I'm glad I was there to document it.