Crane flies are odd insects with long legs relative to their body size–they're mistaken sometimes for giant mosquitos, which they aren't.   For such delicate looking creatures, they're important in the ecosystem:  crane fly larvae feed mostly on fungi, decaying organic matters, sometimes on plant rootlets–some are predatory.   The adults are food for birds.  There are roughly 1600 species of these guys north of Mexico.
Here's one of our craneflies I've seen just about every year:
Notice the pointed abdomen tip and the stripes on the abdomen (and, I think, thorax, but I'm not positive.  It flew before I could get more pictures.)  The body's maybe an inch long, but I think less.  [Edit:   Info from BugGuide: the pointed abdomen tip means it's a female]
Much larger was the crane fly that landed on the upper glass pane of the storm door in the kitchen: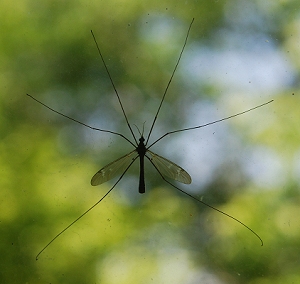 I think it might be Holorusia rubiginosa but I haven't asked for help on its ID yet.  The bright outdoor light made it impossible to get ventral details, and shooting it from the outside of the door was hampered by the bright reflections.  So here's the best I could do:
This part-lateral view was taken from inside, so it's still in silhouette, but it does show the shape of the head, which reminds me of some genera in Neuroptera  (though crane flies are in their own family, Tipulidae.)
From outside the door, none of the straight dorsal shots came out (could not get a clear focus and a fast enough shutter speed before it flew away) but I did get this lateral–not good but what there is–showing the color and (in the large version) the brilliant green eyes.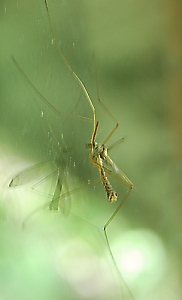 It is oversharped a little so that the markings on the abdomen show at least a little.  Note the very different end of the abdomen…although for all I know that's a sex characteristic.   [Edit:  Info from BugGuide.net–yes,  and this is a male.]  The body was easily two inches, maybe a little more, and the "legspan" on the glass (legs not fully extended) about five inches.
With the number of crane fly species, and the difficulty of IDing them, I may never find out exactly what these two are–but now they're documented for the list.