Back on April 20, I happened to see a dragonfly, just out of its nymphal exoskeleton, clinging to the stone border of the lily pond.   An hour earlier and I could have photographed the whole sequence, but I have a partial sequence.
Notice that it's pale all over…the eyes are just beginning to turn red-brown…the wings are still folded, and the abdomen is still curved up a little.  Faint stripes show on the side of the thorax.
After taking a couple of images from this angle,  I went in the house to get the big lens, so I could shoot across the pond, directly at its dorsum.
By the time I got back out with the big lens on, and set up, the dragonfly's abdomen was both changing shape (straighter and longer) and showing pale markings.  The wings did not extend as far (relatively speaking) beyond the end of the abdomen.  The eyes were darker.
Here are closer views of the head & thorax, and then the abdomen & wings.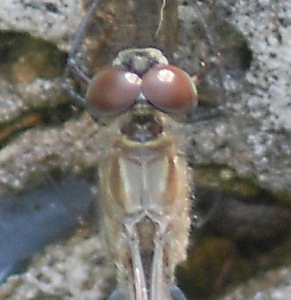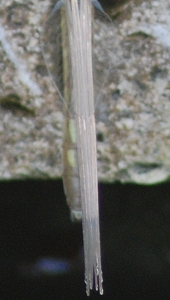 The first flare of wing expansion is just visible in the upper part of this image.
About a half hour to an hour later, the markings are more prominent:
I came back in an hour and found that the dragonfly had opened both pairs of wings fully and markings were now clearly defined–the darks darker.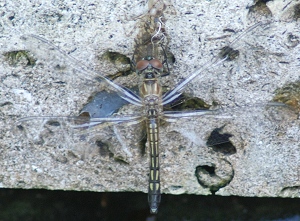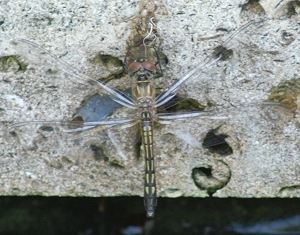 In this image, you can see how close to the water the insect's abdomen tip is by the reflection.   Right after this, I saw the insect's head move.   I moved to the corner nearest, and tried to get a lateral view of the markings.
I wanted another lateral view, but slightly disturbed the water surface, and the dragonfly flew about 25 feet to a clump of tall grass.  I followed, and spotted it in among the grass-blades.
Just as I was trying for another shot, our cat spotted me and walked toward me…and the dragonfly flew up into a live oak tree, well over my head and out of sight.
While watching this dragonfly, I saw a Great Spreadwing female fly up to the water irises and immediately begin ovipositing.  My images of her weren't good enough to share, but this was the a double-first day–first dragonfly seen at or near emergence, and first odonate seen ovipositing this spring.