At the end an hour slogging around a very wet, running-water-wet field as the sun gets low, you might wonder why you didn't go back before now.  Then you look down and there it is…the first one this spring.  The sheer audacity of it–that determined stem, those leaves reaching for sunlight, and then that fragile, pale pink flower.
Today, rubber boots were a necessity.   The water in the north horse lot wasn't decorative enough, even though wide puddles stood here and there.  But the near meadow had a broad stream trickling across it:
Water quality, as gauged by turbidity, is excellent here–this is the clarity you want.
The water here is only a few inches deep, but both the color and detail of the winter-killed grass on the bottom can be clearly seen.   Pools further upslope were progressively murkier, still receiving water from the highway and the land on the other side of it, through the culvert.
Standing water on one of the mowed maintenance trails: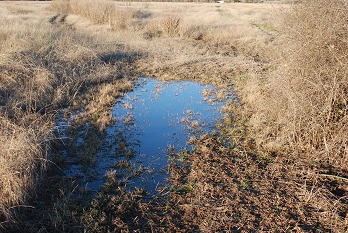 One of the pools in the old ditch, water flowing steadily.   Culvert under highway is that pale rectangle between trees.
Arc-pool in the natural secondary drainage:
These two pictures represent what we've worked towards, both in the human-disturbed land forms, like the old ditch, and in the older natural drainage channels.  The ditch originally ran almost straight, with bare banks.  The secondary drainage had multiple erosion problems.  Now a wide stretch of the natural drainage, like the inside of the ditch, has become a wet-season wetland.   Walking it is a mix of squelch-squelch-squelch and splash.   The great blue heron stalks both these pools (and several others in the same drainage.)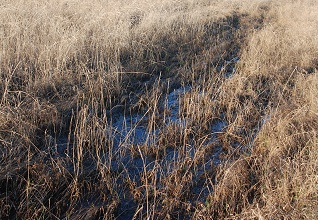 It makes for interesting walking.    So you see why I was so happy to spot that anemone…if not the first, the first I'd seen this year…and celebrate its beauty.  Here's a another look at it: