We have no permanent natural water on the place.   But when it does rain, we have a variety of temporary water sources, from the actual creek to the various overflow channels (some of concern because of erosion; others now pretty much "tamed.")
When we moved here, this ditch, intended to drain the east grass, ran from the highway culvert (that white blip up by the road) all the way to the south fenceline, on a shallow diagonal.   Trees grew up alongside and in the ditch, taking advantage of the extra water.    Cattle had broken down the ditch sides  in several places, and in floods the water escaped to the south, the natural drainage.  You can see in the following image the line of what is now a grass waterway (paler grass) across the near meadow from the end of the tree line:
When we bought the place, and this area was badly overgrazed, a torrent of muddy water tore at the soil along that line and kept much of it bare.   A series of checkdams upstream,  especially where the ditch and the natural drainage met, and a large gabion shortly below the breakthrough, tamed this drainage system.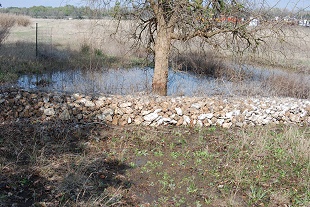 Pools like this provide water for all classes of wildlife, and habitat for those requiring water for reproduction or shelter:  this area is surrounded by crayfish burrows and chimneys, and supports a population of odonates  and aquatic insects.  Pools behind checkdams and gabions provide water longer than those without, simply because they can hold more water.
But natural pools are also important and can be improved with good management.    That first image shows that the original ditch is now wider and shallower than it was, and heavily vegetated on the sides and most of the bottom.  Flood pulses of different amounts have deposited debris here and there,  which then was stabilized by vegetation, allowing the creation of a sequential pools, each one a tiny habitat.   I walked the length of the ditch today, and all the way up I found water–little pools like that one, little trickles of water between them–ideal habitat for damselflies like these:
North of the ditch,  the original sinuous drainage pattern had begun to re-establish itself before we bought the place, but due to overgrazing and trampling by cattle, it generated a fair bit of erosion.   Now there's less, thanks to the check dams, and a natural pool on that drainage looks like this: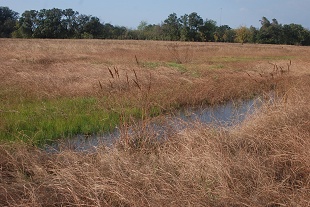 Although most of the grass visible is non-native,  native sedges (the greenest stuff) have moved in and so have some native grasses and forbs.   Flow here feeds the pool behind the #3 gabion.    When the water table is high (as it is right now)  less than an inch of rain will restore gentle flow through here; it comes from the slightly higher ground to the north as well as from the highway and hill beyond to the east.   I flushed several grassland birds from along both the ditch and this natural drainage; these narrow, shallow waters offer dispersed water and feed (from grass seeds and insects) to both migrant and resident species.
The most striking of our temporary natural water sources is the "gully system" drainage west of the seasonal creek.  It receives surface runoff from fields to the north and west, and flash-flood overflow from the creek (via a channel I don't have a good picture of.   When we bought the land, it was mostly empty of vegetation, and actively eroding both headward and out to both sides.    Cattle had broken down the sides, crossing it, which contributed to the erosion problem.   After four or five years without cattle, it had begun to mend but the problems were still evident in this picture from December 2005:
We had cleared Ashe juniper away from the banks (except for a few, trimmed up for shade) and the long gash had begun to make distinct pools, but it still looked bad.    But good rains came in 2006-2007, and by May 2007 it looked like this:
Rain ended in the fall of 2007, and we quickly fell into a serious drought; some of the grasses which here were holding the banks died back–so it doesn't look this good now–but it looks a lot better than in 2005.   These pools also have a full range of wildlife: odonates, other aquatic insects, frogs and toads, and crayfish, as well as providing water for deer, armadillo, fox, etc.
Even temporary accumulations of natural water matter to both wildlife and native vegetation.  For one thing, it takes pressure off the supplemental water we provide, and gives us time to do repair and maintenance on pumps and pipes without depriving wildlife of vital water.  For another, the higher groundwater  gives native plants a chance to store water in their deep root systems.     Managing for less erosion (ideally none) inevitably creates temporary pools and marshy places that attract and support a greater variety of wildlife–and new native plants–to the place.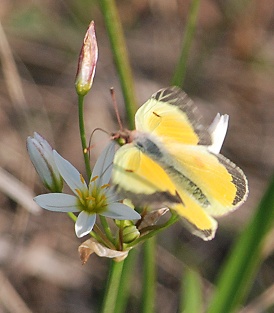 The wet areas with their damp ground plants attract more than thirsty deer and rabbits…here a wild onion has brought in an Orange Sulphur butterfly.  In the same area, one of the small Blues (not sure which)  also nectared on wild onion.