Altogether, we've had 10 inches of rain since the big rain started.  Though it's too late for some things, others have recovered well.
The yellow flowers are two-leaf senna, and the pink is the rose-oxalis that usually blooms in the early spring.
These were blooming up near the dry woods,  and near them was one of our prettiest grasses, when it's in bloom:
The tiny seeds are held a little apart, on plume-like seedheads, so the overall effect is a delicate airy "foam".   I think this is one of the Muhly grasses but I don't know which.
Big bluestem didn't grow much this year–the leaves were much shorter than usual–but this clump put out a lot of seeds:
The seedstalks of big bluestem show up dark against many other grasses, a beautiful rich chocolate when ripe.   This grew from a root transplant of a rescued specimen (where construction was going to destroy it.)    This clump has spread since planting, but it's a slow process.
Little bluestem, in contrast, grows in compact, stiff-looking upright clumps: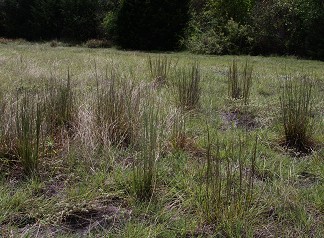 It's only about knee-high this year, but after the rains I expect the seedheads will shoot up another foot.  Later, it turns a lovely russet  and the seeds make fluffy white "snow" that's quite striking.    This part of the west grass was almost completely barren when we bought the plance; these clumps grew from seed harvested in the two surviving pocket prairies.    In the background is the edge of the creek woods.
Indiangrass is another of the tallgrass dominants, but in the second summer of drought it too grew short–but its golden spears of flowers shot up after that first rain.   We harvested seed from the pocket prairies for this, too.
Looking north along the edge of the creek woods to the north property line, the greenest area is the mowed work lane.
To the right, native grasses (including clumps of little bluestem) are invading old barren ground; in the distance, the small brown lumps to the right are areas of little bluestem that appeared spontaneously.