Several times in the past couple of years we've had to get a turtle out of the fence.  The horse lots fencing is pipe with welded-mesh cattle panels welded to the pipe–so there's a pipe at the bottom.  Good safe horse fence, but not easy for turtles to maneuver through/around and turtles don't seem to have the idea of paralleling a fence to find a gap.
So yesterday evening, shortly before dark, the horses were acting freakish in the barn and south barn pen, and Richard spotted a good-sized turtle.  I came out with the camera and first saw this:
The turtle had wedged its head and front partly under the lower pipe of the fence, but could not get through, and although there's a shallow layer of sand there (we put sand down in the mucky spots of the horse yard) there's hard, dry clay underneath.  Also, this is right by the gate from the barn lot to the 1 acre dry lot, near the horses' water trough, and we didn't  want the horses spooking through the gate or stepping on the turtle.
From the other side, this is what I could see under the bottom rail:
It's easy to see that the rest of the turtle isn't going to make it through.  The turtle is quite annoyed at this point,  and I wouldn't like a flash in my face, either.
Here's a better view of the dorsal surface–it was quite a pretty, clean turtle, looking as if it had just been washed and polished: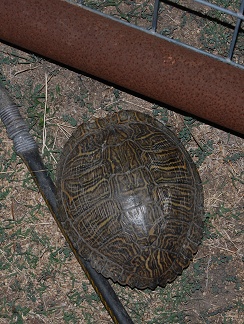 At this point I'd pulled it away from the fence a little.  It hissed at me when I did that.
The only thing we could think of to do was take it to the lily pond in the back yard–there's no natural water for more than a mile in any direction.
I wish I knew whether it was the same one who got got in the fence earlier this year, and the same as the smaller turtle who got caught in the fence last year.  Is this turtle determined to live in our yard until the creek has water again?  If so…I need to know more about how to care for it.  An online turtle source said that many turtles die if removed from their home ranges.