Our backyard water garden, filled from collected rainwater, is longer than the house–over sixty feet, comprised of pools of different shapes and sizes with narrow "chutes" of water between them.   In this drought year, it's the largest water source for wildlife for more than a mile in any direction: stock tanks are dry, the little water guzzlers on the 80 acres are much smaller, the nearest water in the creek is a mile downstream (and has dried up several times.)
This upper end, narrow and partly shaded even in drought, attracts the shyer small birds and shade-preferring dragonflies.
Wildlife comes here to drink–with predictable effects on the different populations.
I spotted five or six male blue dashers, Pachydiplax longipennis, mostly at the lower, sunnier,  lily pond end of the stream today.  They were skirmishing with a larger, and very flashy, male widow skimmer, Libellula luctuosa: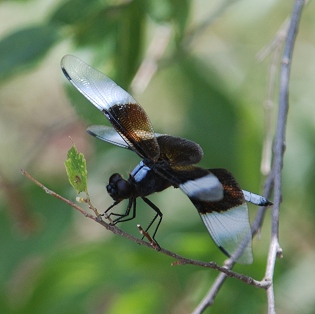 In addition to the year 'round birds, the fall migrants are moving through.  I was able to photograph a yellow warbler coming to water just after noon, when it was already near 100 F.
Other birds included cardinals, white-winged doves, Inca doves, Carolina wrens, house finch, black-chinned hummingbird, and a bird I couldn't identify (barely seen)–by its size and song, another migrant warbler.   A squirrel came to the  first of the "stream channel" sections, both to drink and to pick up a green acorn off one of the red oaks.  In the channel sections, the rubber liner is exposed.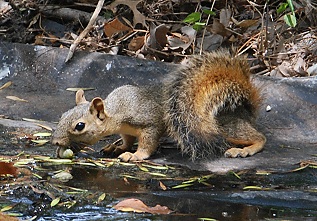 The wasp below may be a new species for the place–I'm not sure what it is.  It's got a long, thin pedicle between thorax and abdomen, but it's big, like one of the larger Polistes paper wasps.    It was very active, jerking around, lifting and landing, as it worked its way down the log to the pond to drink and back up.  [Edit:  Sceliphron caementarium]
Today was another 0ver-100 day–we've had over 60 of them this summer.