If land managers had ten thousand years to play with the land, prairie restoration would be a lot easier, even if they had to start with an overgrazed, eroded, compacted, heavily-invaded, polluted mess.  But we don't.   So some basic principles have been laid down–initially during research on northern prairies–that now govern most prairie restoration projects: physical removal of invasive woody plants by fire (cheap) or various mechanical clearing methods (more expensive) ,  grazing management to interrupt succession, physical disturbance of the soil (discing, for instance) to induce germination of dormant seeds.
The problem for managers today–especially small-acreage managers–is that some of these methods are no longer permissable or even wise.   For us, for instance, with our land partly surrounded by homes and a construction firm that stores fuel and other flammables onsite,  fire is not a good option even if we could get a permit to burn.  Our land is too narrow; fire could easily get off the place and threaten homes or (at the construction yard) go on to threaten a nearby store.   Moreover, fire produces air pollution that is unhealthy for people and livestock.   Our land is too small to support a cow herd.  Left to its own devices, it was already (before we bought it) becoming covered with Ashe juniper, a tree that readily invades overgrazed pastures around here.   So–if we can't have cattle and can't use fire–what *can* we do?   And does it work?
So far, we've continued to see increasing diversity of native plants, a healthier structure, less erosion (no erosion for most of it)  with other methods.    This discussion will center on the succession from bare to King Ranch Bluestem as the dominant grass to replacement of KRB by native grasses and forbs.
At stage one, the land had been eaten nearly bare over much of it during the tenancy of the previous renter.  The renter before that had sown "improved" pasture grass (King Ranch Bluestem, Bothriochloa ischaemum, and possibly also Silky Bluestem, Dichanthium sericeum) but these grasses, like all the natives that had survived at all, were eaten down to the crown.
That first spring, we had abundant wildflowers, especially bluebonnets and gaillardia, forbs that do very well on poor soil.   By the next year, the grasses were recovering, so we had more grass and fewer wildflowers, a trend that continued for several years, as we wanted grass roots to hold the soil.  Meanwhile, we were clearing off the invasive juniper, prickly pear, and mesquite, by hand.  We harvested seed from native grasses on the place and spread it on the bare patches (especially little bluestem, Indiangrass, and sideoats grama.)  We did root transplants of "heritage" grasses from the grass garden near the house (eastern gama, switchgrass, big bluestem, a few others) into the habitats we thought they'd like best.
By year three, although we had found areas of native grasses here and there, the area most disturbed by former renters (including used for winter wheat and oats by one)  was heavily dominated by King Ranch Bluestem–a grass that–for a time–outcompetes desirable forbs by choking them out.  Only Maximilian sunflower seemed able to make headway against it.  Where we mowed it (for maintenance paths) it formed mats; where we didn't, it grew tall and then lay over in a heavy thatch.   A few of the tough natives (including Silver Bluestem, Bothriochloa saccharoides, Little Bluestem, Schizachyrium scoparium, and Indiangrass, Sorghastrum nutans) moved into the bare areas, but KRB seemed to have a lock on the west end grass.  We read (and were told by some) that we would have to burn or poison or otherwise get rid of the KRB to restore native plants.

But about year seven-eight, the KRB began killing itself–it's apparently fairly short-lived–and for one year we had ugly gray mats of thatch lying in heaps, with only the stoutest of prairie forbs (cow parsley, for instance, and Baccharis) penetrating it.  Then the meadow dropseed, Sporobolus compositus var. drummondii, a delicate-looking, fine-leaved grass, began coming up in the thinner-thatched areas, soon followed by other desirable plants, both grasses and forbs.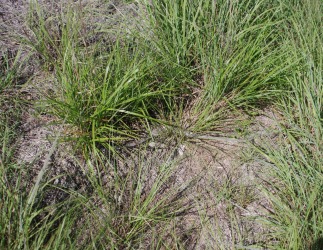 The thatch protected the soil from heavy downpours, preventing erosion, and also kept the soil itself cooler.
Where the regrowth was initally too coarse (sparse growth of mostly invasive forbs or woody plants and no grass), mowing in offset blocks for two years running produced a good effect:
This is a view across the west part of the west grass, looking north from near the south fenceline.  This part of the west grass now supports a variety of forbs (gaillardia showing most, but note Texas Star in foreground), and five or six grass species so far; diversity is still increasing.  Last year, for instance, a species new to the place showed up for the first time, Eupatorium serotinum. Our management plan here will be for alternate year mowing of the offset blocks as the KRB dies off (since mowing appears to regenerate KRB.)
In another part of the west grass, with different initial conditions, recovery of natives through KRB thatch was faster and looks different:
This view across the west grass looking SE to the south fenceline shows an area that had gaps in the KRB coverage, quickly invaded by dropseed and silky bluestem when freed of heavy grazing pressure.  Small areas of other grasses had also persisted (protected by, for instance, broomweed which formed a scratchy and irritable barrier to grazers.) As the KRB died off, these patches persisted, and included shortgrasses like buffalograss, Texas grama, curly mesquite, and various 3-awns, and mid-grasses like the dropseed, silky bluestem, silver bluestem, little bluestem, and Indian grass (originally the only true tallgrass on the place, though its history included tallgrass prairie.)  All these have increased.  The pale yellow-green patches in this picture are mostly dropseed, with some silky bluestem.  The upright "tufts" in the mid distance are little bluestem.  As time has passed, this area (with thinner soil than the south half) has revealed multiple 'discoveries' of old prairie survivors that were not here for the first years we owned the place.  Partridge pea, Illinois basketflower, Illinois bundleflower, Two-leaf senna, Devil's claw, etc.
So…in nine years, the west grass has gone from mostly bare to a grass we didn't want as the dominant to recovery with native grasses and forbs–a recovery still incomplete, but obviously continuing to make progress.  Considering the whole place, the diversity has increased:  from 26 species of grass to start with (including nonnatives like KRB, silky bluestem, and Johnson grass) to 50, and forbs from 65 to 150.  Are we "there" yet?   Certainly not.  We still have invasive woody plants, forbs, and grasses to deal with every year (Johnson grass is apparently immortal…you think you've got it all and you haven't.)   We won't be "there" by the time we did–but the land itself is telling us we're on the right track.  After last year's severe drought, it responded to this spring's still-meagre rains like this: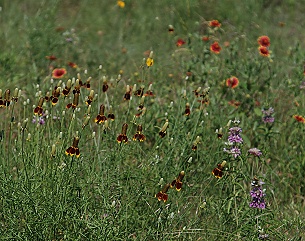 Some of the wildflower-specific posts show wildlife as well–the increasing diversity of plant-life and physical structure in the west grass has increased the number of butterflies and other insects (including honeybees and other bees) using this resource, and also the number of birds (both species and individuals) that are found here.  Nor are they alone, as mammals, reptiles and even amphibians (in wet weather) are found here.