The half-inch of rain last weekend brought out a few more flowers, and today the theme was purple and yellow.  The most intense yellow belonged to the claspleaf coneflowers, damp-ground lovers, here in the swale below the #3 gabion.  The lacy white in the foreground bears the unlovely name of beggars' ticks, for its adherent seeds.
Hidden among the coneflowers were a few lemon horsemint, their purple striking against that strong yellow.
Up out of the damp-ground areas and into the dry woods, where there is basically no soil, just rocks, the skeleton flowers were in bloom.  These lovely delicate flowers grow on naked stalks that appear to rise from the most unlikely ground.
I'm very fond of them and was happily taking pictures of each one (we have more than we used to) when I realized that I'd never seen that fly before.   I'm not sure about the insect across the flower from it (they seemed wary of one another) but that one was shyer.   Pretty spotted wings…so I had to close in for a tight shot that I hope will be identifiable to some entomologist.  [EDITED 11:56 pm]  And with thanks to Jack L. Neff, it's been identified as a fly probably in the genus Poecilognathus.
After that, it was time to check on our dry woods yuccas–almost through blooming (and with very short stalks, as it has been a dry year.)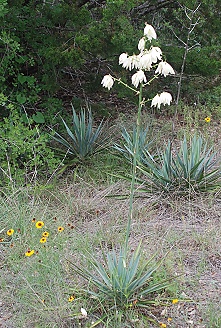 The yuccas in the background didn't bloom this year, but the yuccas in this area have been increasing in the years since we got the place.