Plains Nipple Cactus, Coryphanta missouriensis, is a small, inconspicuous ground-hugging cactus that almost disappears (shrinks a lot) after between flowerings.   Unless you know where you have a patch, you do not see it then.  But when it flowers, it opens elegant little flowers with long, pointed petals.  The lacy pattern of the spines on the plant, and the starry shape of the flowers, makes this one of the spring joys around here.
The colors range from a very pale yellow-beige (the colors are always tinged with a little brown) to pinky beige, to rich bronzy-oranges, always striped appearance.  Some years they don't bloom at all; some years they do this:
Today I found a patch in an area where we haven't seen them before, out in the short-grass strip just east of the dry woods rather than up on the rocky/gravelly soil of the dry woods.   I found it because the short way home, the trail through what we call Cactus Flat,  gave me a surprise.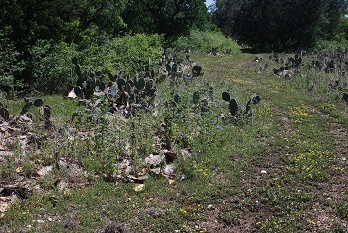 This photo, originally taken to show the blue-curls and gorgeous bladderpod (yellow) on and near the trail, shows the place of adventure as well: where the shadow ahead crosses the trail.  I was looking forward to resting in that cool shade after photographing flowers and butterflies in the bright sun…but something else got there first and did not want to be disturbed.   Something that sent me home by another path.
It's that time of year again.   The rattlers are out of their dens and proddy.   It was a polite rattler–it gave me the warning buzz.   So I went back up and around (carefully, you bet), and came down the east side of the dry woods…and found more beauty to photograph.  (I never thought I'd thank a rattlesnake…)