The first odes of spring showed up after the rain, not surprisingly:  the first was a tiny Citrine Forktail male seen flying from one (too brief to grab a shot) perch on dead week stalks sticking out of water,  late Sunday.    On Tuesday evening, behind the #3 gabion, I spotted three pairs of Plateau Spreadwings*, Lestes alacer,  all trying to oviposit on one tiny clump of Eleocharis…the only clump that had greened up.
The third female is out of sight behind that blurred leaf at the bottom (you can just see one eye and a few segments of abdomen.)   The males have bright blue eyes and a pale blue or pale green stripe on the thorax; the females are shades of brown/tan/beige.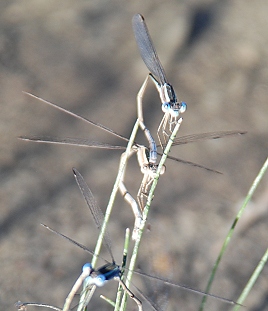 The male holds on while the female makes a slit in the stem of the plant and inserts eggs.   These stems are so thin it's hard to imagine any room for eggs inside, but after the long drought, no water plants with thicker stems had emerged from last week's rain.  Only this single little clump.  Unfortunately, we're not expecting any rain, and it's already warm–the little rain pool behind the picture is already drying up/sinking into the soil.
I spotted a male Common Bluet at another rain pool, but the pictures weren't clear enough to post.
*EDITED:  The spreadwings were IDed as Plateau Spreadwings by Dennis Paulson, from the TexOdes list, via email.  Thanks!