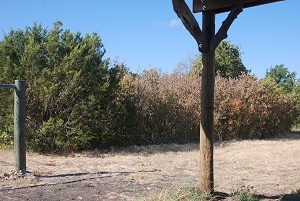 Roughleaf dogwood & oak thicket in August 2011
East margin of creek woods–August 2011-leaves turning & dropping
Cactus Flat: even the prickly pear is drying out

We have been in the brown–the worst color-code for drought–for months.   We have not had regular (non flood-pulse) flow in the creek for over a year and it has been totally dry for months on our land, and dry at the sound end of town (perhaps a mile away)  for at least six weeks.    Thirty two years ago, when we first moved here, the creek never went dry at the south end, and most years puddles survived in the dryest months at our end, right up into this century.  Since 2003,  we have had completely dry creekbed–no puddles–for a period of every year, and an increasing length of time as well.   Since 2004, the creek has dried up completely at the south end.
So it's not one summer of drought, but year after year of dry.
There is no natural water on the 80 acres.   Water for wildlife comes from the rainwater storage systems–the rainbarns and tanks–and it has not rained since we finished the third pavilion this year in June.  (It hadn't rained before that, but the critical thing is–no rain has fallen for the tanks to collect.)  Thus wildlife find water only at Fox (north side), Owl (SW corner) or in our yard.   Stock tanks in everyone's fields have gone dry.  The creek is dry above and below us.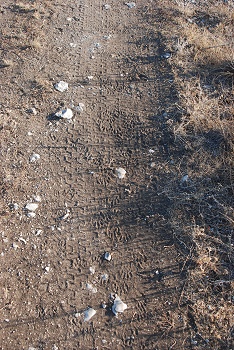 Every morning we find the night's tracks anywhere the dust is soft enough.
After seeing them every morning and comparing them to the tracks in a book, I can ID most of them: the raccoons, armadillos, opossums, foxes, coyotes, squirrels, rabbits, mice (not to species!), large insects, snakes, lizards, birds… many thirsty critters use our walking and tractor tracks as their highways and they use all the water sources heavily.
Every week, more leaves turn yellow, then brown, then fall.   Every week more trees and shrubs and grasses and forbs simply die.  There's less food for wildlife.  There's less cover.  And the relentless heat–day after day well over 100F–and lack of water take their toll.  Birds hunch in what shade they can find, beaks open, panting like dogs…right next to water.
It's depressing to keep taking pictures of it–though it's necessary because there are people who just don't get it–so I'll throw in some less dire images: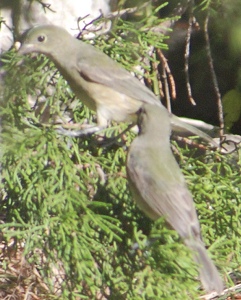 Two juvenile Painted Buntings (species of concern) perching above Owl Water.  In good years, a nest will produce four.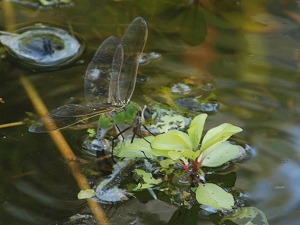 The large backyard water feature, designed for wildlife, allows dragonflies like this Common Green Darner, ovipositing on vegetation, to reproduce.  Many birds and mammals also use this larger resource, as well reptiles and amphibians (breeding population of leopard frogs and toads.)

With less rainfall, and longer gaps between rains, it's become harder to calculate how to build rain barns and size storage to ensure that there will be water available even in prolonged dry spells.    The recommendation on one site was to have enough storage to handle 90 days without rain.   Initially, Fox Pavilion's 600 gallons of storage, with a summer use of 5 gallons a day, was ample.  That's 120 days without a refill, and the tanks fill with less than 3 inches of rain.  It was ample until this summer.   But the extreme heat this year has mean more than 5 gallons a day usage, and we have not had a substantial rain since May 12-13.   One of the 305 gallon tanks is empty; the other is very low.
Owl Pavilion is in better shape: it has 5000 gallons of storage–but it's a bigger system and uses more water (it's where I keep finding 5 or 6 deer.)
In hot weather we always check all the water every day.   Although Owl will hold some water for two days,  raccoons sometimes pull the pump out of the lower tank, or disturb the sides of the artificial stream so that it leaks and the pump runs dry.    Leaving that unwatched for a day is…not good.   Usually one of us walks the circuit just about sunrise, when it's cooler; if we're delayed, we'll ride the lawn tractor out.
In the creek woods, elms, bois d'arc, and hackberries are dying, as well as understory shrubs like roughleaf dogwood.  We had a small remnant population of American elms, some slippery elms, and a lot of cedar elms.
Nearly all the trees we've planted in the last ten years have now died, including those planted the first year or so that seemed well-established.  Trees here when we bought the place have died.    Some of the introduced  native grasses have died.
And both near and long-term forecasts are still…dry.
EDIT NOTE:  I forgot to include the picture of the lovely western coachwhip, taken early one morning: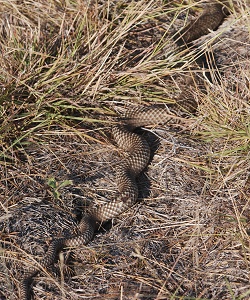 I'm quite happy to have Western Coachwhips on the place, although it's hard to get a picture of a whole one, as they're very long and nearly always stretched out.  If one end's in focus, the middle and other end aren't.
This particular snake was out in the west grass, and I walked up on it.  Later in the morning, it was engaged in hunting a rabbit when I startled it again and it fled for the fencerow.  Sorry…we have plenty of rabbits and the snake's welcome to one.  Or more.