On land with no permanent water source, rain harvesting is the only way to provide reliable supplemental water for wildlife.    (Well, you can lug it in on your back or a cart or trailer, but that's no fun at all when temperatures top 100F day after day.)   And rainwater is a healthier source of water for some (most?) wildlife than treated city water, even if that were affordable and available.  Supplying supplemental water is a key activity in the support of wildlife, critical in times of drought.   So, over the years, we've built "rain barns" to capture and store rainwater for this purpose.   We also do rainwater collection off existing roofs (house, carport, horse barn) to provide water for the horses, water garden, and a few trees.
Fox Pavilion: 610 gallons storage max
Fox Pavilion was our first, designed to supply water to a ~35  gallon capacity water source circulated by a small solar panel.   You can see one of the 305 gallon storage tanks; the image below shows the waterer, hoses, and in the distance the solar panel on an overturned tub.    Except for the occasional chewed-through wire, this setup has functioned well for about 8 years now, with daily checks in hot weather to top up the water from the tanks.
Though Fox Pavilion–built on the rocky "knoll" with brush growing around it–did serve wildlife, it was only a small source, and easily overwhelmed during drought periods.   It was fine for small birds who preferred to drink alone or in small groups, but watching a flock of 30-odd cedar waxwings there suggested that we needed another design to serve birds that like to flock to water (and who, bathing, splash a lot of it out.
So our next rain barn, Owl Pavilion,  was planned for more water storage (2500 gallon tanks instead of 305 gallon)  and (to compensate for the space lost to the tanks) an observation deck that also provided shade in very hot weather.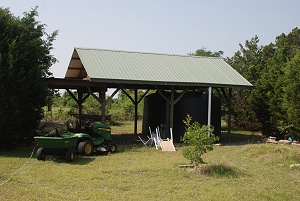 Observation deck on east (left) end, 5000 gallons storage
Owl's water feature, with roughly 500 gallons of capacity, includes a "rock spring" and two preformed tubs deep enough and large enough to allow planting aquatics to help filter the large nitrogen load more birds were expected to dump–and offered reproductive space to odonates and amphibians.  It was quickly colonized, after planting, with cricket and leopard frogs and several species of odonates, as well as other invertebrates.
Owlstream being laid out; pump is in round tub and also powered by solar panel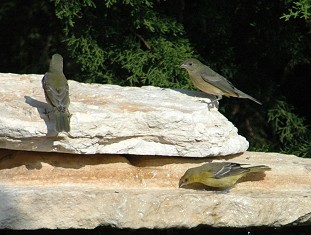 Birds quickly discovered "spring" from between rocks.
We soon discovered that–as we'd suspected–different species chose different watering holes.   The two rain barns were built in and near different habitats.
The newest rain barn, Cloud, suffered construction delays due to health setbacks, but is now almost finished.     It benefited from our previous experience, even so.  Like the other two, it has the same size roof area (and thus collection area) of just about 400 square feet.  Like Owl, it has two 2500 gallon tanks for storage.   In addition, it has an observation platform at each end, allowing additional viewing areas (and a different view from each end.)   This also made it possible to raise the roof more safely, and  with fewer helpers.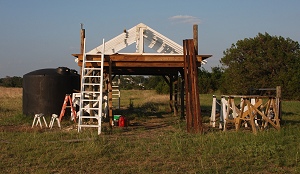 View from west several weeks ago.  Roof trusses up, purlins on.
Cloud from east today, with tanks in place, roof on.
Cloud Pavilion from north; 5000 gallons storage

When it's completely finished (all gutters and downspouts installed) and the ladders are painted a less intrusive color, then it will be time to install the waterer itself, and the solar powered pump…and wait for rain to fill the tanks.    In the meantime, wild things are already interested in the rain barn, just as another habitat for exploration.  Birds, lizards, insects–and judging by scat, another gray fox and perhaps a coyote–have checked it out.
Rain barns were named by what we'd seen in their location: gray foxes near Fox while we were building it, a Great Horned Owl near  Owl before we built it,  and lots and lots of clouds from Cloud, any time there are clouds in the sky.  I'd like to put another two  on the place sometime–one in the east end near the secondary drainage, to make a permanent waterhole out of one of the natural pools, and one in the northwest meadow (to balance Owl in the southwest.)    In a drying and warmer climate, the more water we can store on the place, the better for wildlife and native plants both.    We're still over 12 inches "behind" normal rainfall since last October, and the only reason it's not worse was the 12 inch deluge in September (rain falling so hard and fast that it didn't really restore our groundwater–it just ran off.)
Rain harvesting is the logical way to provide reliable water for wildlife (and people, if you have the roof area and know how to purify it!) and there's no reason not to build rain barns that function for more than one purpose.
With the addition of a couple of chairs and maybe a hammock (I vote for both!)  you have a shaded area to rest in and observe from when you've hiked out to check the pump in hot weather.   You also have a roof closer than the house to run to when caught out by a storm.    You can stow supplemental feed (if you do that), tools, other equipment, and supplies under cover; you can have the same convenience for visitors (and, if there's a group coming, you can pre-position an ice chest for them.)  If you use a four-wheeler or other small vehicle to move around the place, you can park it where the seat doesn't turn into a griddle.
Water yield:   an inch of rain falling on 1000 square feet of roof will yield 600 gallons of water, on average.  (720 gallons falls on 1000 square feet, but you won't catch it all.  Metal roofs are more efficient than asphalt-shingle roofs.)    So for a 400 square foot collection area, you'll get 0.4 x 600 gallons, or 240 gallons.    Each side of the pitched roof will–in theory, with rain falling straight down–get 120 gallons (each side has a collection area of 200 square feet.)  Thus  three inches of rain will fill–overfill–a 300 gallon tank draining one side of that roof.
If you live where rain falls seldom, but heavily when it does–or falls for only one short part of the year–then you want to have the storage capacity to collect and store that maximum rain.    For us, that means having the storage capacity to hold at least 7 inches of rain (1/4 normal annual rainfall)  because 24 hour rains  in the 5-8 inch range occur almost every year, as do months without rain at all.    (We had a 7 inch rain shortly after finishing the horse barn and hooking up the new tanks–it filled them, just as calculations suggested it would.)  It would be better to have over 12 inches of storage, but that's going to take buying and linking more storage tanks.     Owl and Cloud, with smaller collection area for the 2500 gallon tanks, can hold between 9 and 10 inches of rainfall.    We really need more storage at Fox:  in the current drought, we've come close to bottoming out the tanks there, since they can't hold even a full three inches of rain.    600 gallons of storage was fine from 2003 through 2007, but it's just barely adequate now.   We're considering ways to add storage without destroying more of the limited "dry brush" habitat (which is very attractive to some wildlife.)   Easiest will be hauling two more 305 gallon tanks up there and connecting them in series.
How much storage is needed depends heavily on climate and rain patterns–the longer between rains, the more capacity you need; the hotter the climate, the more capacity you need; the fewer other water sources for wildlife, the more capacity you need; the more water in the actual water feature, the more capacity you need.    Consider surface area and placement as well as total volume of water:  shallow open ponds (very attractive to some wildlife, not to others) lose water to evaporation in hot weather faster than deep, narrow ones.
Consider aesthetics, too.  There's no reason to ignore what your rain barn looks like….its overall proportions can be attractive without adding to the cost or the difficulty of building it.    (Having a soft green roof color instead of blinding "silver" did cost a bit more–but it looks that much better to us.)   There's no reason to avoid making the waterer itself attractive…when you come into the shade after a morning's work on fencing or mowing or some other chore, why not have a pretty wildlife waterer with the sound of water dripping?    Birds like it, and you can, too.