Fall color here starts early (sometimes very early)  but slowly, moving leaf by leaf, species by species, until the final flare of rich red from the last oaks in late November (with the occasional rusty blackhaw viburnum holding on to its red leaves into December.)
Smooth sumac, green and burgundy
We have three sumacs on the place: smooth, flameleaf, and aromatic.  Aromatic sumac (people who don't like the aroma call it "skunkbush")  changes in patchwork, not in stripes: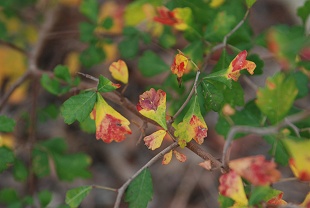 The bush as a whole looks as if someone had spattered it with paint–bright yellow and bright red.
One of our bur oaks was heavily covered with acorns this year,  and is now dropping both ripe and unripe ones.    Not only do bur oaks have great big leaves, but they have great big acorns, too.
The acorn facing up shows its unripeness with the green color.  But even unripe bur oak acorns are prized by acorn-eaters.    Here's why: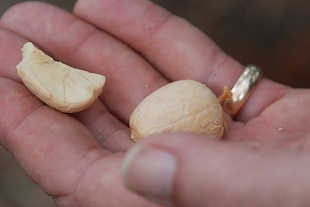 When fully ripe, some bur oak acorns can be eaten out of hand without being soaked or boiled to remove the bitterness and astringency of the tannin.  (Trees differ.)    This one, being not fully ripe, wasn't tasty–but getting there.  A big bur oak tree produced a lot of acorns (though not every year) and each acorn has substantial nutrition in it.    We found bur oaks and scavenged acorns, so now we've got bur oaks of different ages coming up here and there.  Those in the yard got some help with water the first year or so; those out on the land had to fend for themselves.    But eventually–more food for wildlife.
The backyard water garden is a good place to see interesting leaves in the fall–they stack up (and block!) the little mini-waterfall.   Virginia creepers are up in the pecan and ash trees, and drop multi-colored fringed leaflets; pecan, ash, roughleaf dogwood, hackberry, soapberry…each a different color and shape.