If you're one of the people who hate and fear all snakes, this might be a moment to remind yourself that this one is merely an image in the computer, as well as a small, slender, agile reptile that is harmless to us humans.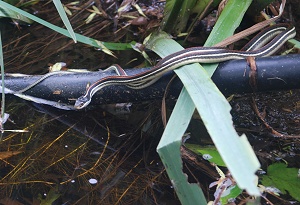 My husband spotted this Red-lined Ribbon Snake, Thamnopsis proximus rubrilineatus, basking on the water return pipe of the water garden, near the stand of water iris at the head of the lily pool.    The first time I saw one, I was nine, and my mother and I were resting near a low-water crossing.   A beautiful little snake, graceful and harmless…it became my favorite snake that day.  (It's now my favorite small, slender, aquatic snake…other snakes have found their place in my list of favorites.)
T.p. rubrilineatus is a shy creature, and in all the years I've tried, this is the first time one has held still long enough to get several mostly-good pictures.  Snakes aren't easy to photograph in whole because of their shape–you can almost never get the whole snake in one picture, all of it in focus.    This particular species, being shy, usually takes to the water and swims into cover before you can do more than grab a single (in my case often blurry) shot.  So I crept forward very slowly, easing out the zoom telephoto, while the snake eyed me warily.   It was a partly cloudy day, and the snake was (as it prefers to be) in the shade of vegetation as well…so exposures were long enough to be affected by unsteady hands, and most were blurry.   It wasn't quite dark enough to trigger the flash, except once
I enlarged the head, to show the beautiful patterns of color and scales:
I find I can see more from photographing critters and then enlarging the images in the computer than I can with aging eyesight alone:  that little pale crescent in front of the eye, and that white spot on top of the head…never noticed that before.   Incidentally, the pipe the snake rests on is less than two inches in diameter (probably about 1.75 inches.)
After I inched closer, and the sun broke through, the snake decided it had had enough of that giant eye coming nearer (these snakes are preyed on by herons, among other things.  A big staring eye means you've been seen…and there might be a beak somewhere.  Or a paw with claws and a mouth with teeth.   Bullfrogs take the smaller specimens of this species.)    It began to move down the pipe toward the water, but much more slowly than usual…so I got more images:
And a closer look at the lateral head: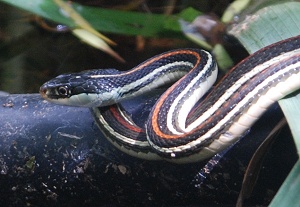 So, unless you're a tadpole, a very small fish, or a very small frog…you have nothing to worry about if you see this little snake (or its relatives) near a small creek (favorite spot, in the streamside vegetation or clear shallow water.)   Stop a moment (or several) and watch it–but if you startle it, it may flash into the water and out of sight faster than you can focus your camera or binoculars.
We have seventeen identified species of snakes on the place–I don't see them all every year, but the reappearance of T. p. rubrilineatus in the water garden in late spring/early summer is always a pleasure.