Engelmann's Daisy, one of the old native prairie plants that cattle love to eat.   We're trying to get it established again–so far, in a protected location:
As you can see, they're a good pollen source for honeybees.
Another in our yellow collection is Butterweed–it forms solid masses where the soil and moisture are right.   The individual flowers are about the size of my thumbnail, clustered tightly on the top of the plant.   Here a male Checkered White butterfly is having taking a sip:
Also eager for a taste of the Butterweed were other butterflies (some of which would not let me approach at all) including this Variegated Fritillary:
Down by the creek, there's a stretch of gravelly bank that supports some unique (for this place) plants.  Unfortunately I found no Prairie Larkspur this year–I think the severe floods last fall that stripped away some of the remaining soil took them along with all their seeds.  But we still have a stand of False Foxglove, Penstemon cobaea, one of my favorite spring flowers (if it's possible to have a favorite!)
These flowers seem to glow with their own silvery light, and that's especially true of the the buds and young leaves near the top of the inflorescence.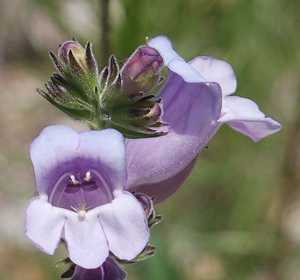 The "furry" hairs outline every leaflet and bud (no, that's not oversharping–there really is a silvery halo effect.
And back home, the blue water iris are blooming all too briefly in the water garden in the yard.